Get $200 off your new heating oil storage tank from SMO Energy!
Plus, 0% financing or low monthly payments!
Maryland homeowners, we have good news for you!
The Mid-Atlantic Petroleum Distributors Association (MAPDA) and National Oilheat Research Alliance (NORA) Oil Tank Rebates are back! Homeowners can get a $200 rebate on a new heating oil tank replacement from SMO Energy, and up to an additional $300 rebate for replacing your old oil burning heating equipment with new high-efficiency oil equipment.
This offer was made possible with funds from the Mid-Atlantic Petroleum Distributors Association (MAPDA) and grants from the National Oilheat Research Alliance (NORA). But hurry! The rebates for homeowners in Maryland are only available for a limited time and while funds last.
Why do you need a new heating oil tank?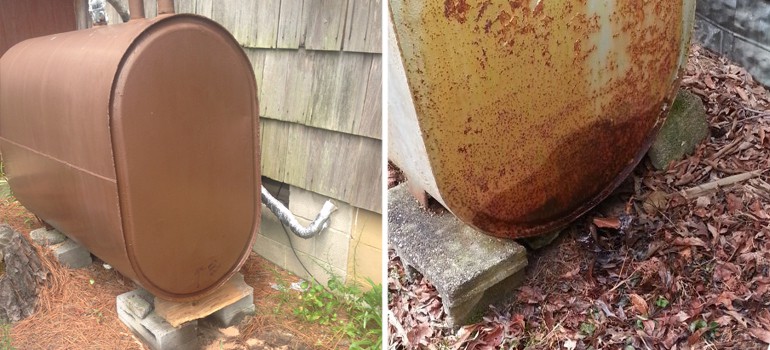 Oil tanks have a limited life span:

According to the Maryland Department of the Environment (MDE) it is advisable to replace your oil tank every 15 years. Once your oil tank begins to cross the threshold of 15 years, the potential of an oil leak, which is dangerous to the environment, is relatively higher.

Oil leaks are very expensive:

According to MDE, the average cost of cleaning your home and property after an oil leak is between

$10,000 -$50,000

. Large leaks associated with underground storage tanks can cost up to

$100,000

to remove and restore the home to a condition that is safe for your family.

Homeowners are responsible

for the upkeep of their oil tanks and are liable for any costs associated with a leak. These costs are seldom covered by homeowner's insurance.
Why do oil tanks leak?
Oil tanks wear out because of exposure to environmental and climate conditions such as rain, wind, extreme heat or cold, and oxidation. Over time, oil tanks build up a collection of condensation and natural sediment of oil particles at the bottom of the oil tank. This buildup creates a sludge over many years within the tank which eats away at the tank, causing it to rust from the inside out. Sludge is a natural occurrence in all heating oil tanks. There are additives for your oil tank that can help prolong your tank's life, but unfortunately no oil tank will last forever. There is a big benefit to proactive replacement today, and not having to deal with an oil leak cleanup.
Signs you need a new oil tank
If your oil tank has any of the following signs, now is the best time to replace your tank and take advantage of this $200 rebate:
If your tank is over 15 years or you are not sure how old it is
Wet spots or tiny pools of liquid around the seams of the tank
Oil spill during a delivery, or other signs of leaks or spills
Rust on the outside of the tank is a sign of internal weak spots that can make the tank leak
Broken legs, whistles, and missing parts are clear signs that the oil tank is at the end of its lifespan
Differently sized fill and vent pipes may put a lot of pressure on the oil tank causing it to leak
In addition to a $200 rebate, SMO can help you finance or convert to propane:
Oil Tank Replacement Financing: We offer 0% financing or standardized monthly payment plans for new heating oil tanks.
Propane Conversion: SMO Energy gives you up to $1,000 off to help with the cost of converting to propane, a green energy solution.
Oil Tank Replacement Process: Our oil tank process includes a variety of services such as oil tank removal, and above or below the ground oil tank installation for residential and commercial clients.
Hurry! This offer is only available while funds last. Schedule a free tank replacement estimate with one of our energy consultants to take advantage of this offer!