When it comes to keeping your home or business in Southern Maryland warm throughout the fall and winter, you have options. If you are like 5.7 million other households in the United States, you might use oil to heat your home and, to a lesser extent, water. Some houses use propane, rather than oil or natural gas, for heat and hot water.
Whether you use oil or propane, you need to schedule local fuel delivery to keep the heat on at your home or business throughout the colder months of the year. Heating oil companies in Maryland that offer fuel delivery services, such as SMO Energy, often have several delivery options available. You can choose from scheduled delivery, will-call delivery or automatic delivery. In most cases, automatic delivery offers home and commercial property owners the most benefits.

How Does Automatic Oil Delivery Work?
You have a lot of things on your mind, from your family's busy schedule to your obligations and commitments at your job. If you own a home, you also have to keep track of maintenance projects and its regular upkeep. One of the things you might need to monitor is the level of heating fuel in your home's tanks. You do not want to run out of fuel on a cold winter's night, nor do you want to take the chance of running out of fuel during a snowstorm or other weather event.
When you sign up for automatic fuel delivery services near your home, one of your "to do's" gets removed from your list. You no longer have to keep track of the oil or propane levels in the tank, nor do you have to worry about calling to schedule delivery.
With automatic fuel delivery from SMO Energy, we step in and take charge of your fuel tank. We estimate your fuel usage based on your history, the size of your tank, the local weather and how energy efficient your home might be. When you sign up for automatic delivery service, you never have to worry about your fuel tank running dry or about having to scramble to get heat to your home or business in the middle of a winter weather event. We will be there with a new delivery before you run out of fuel.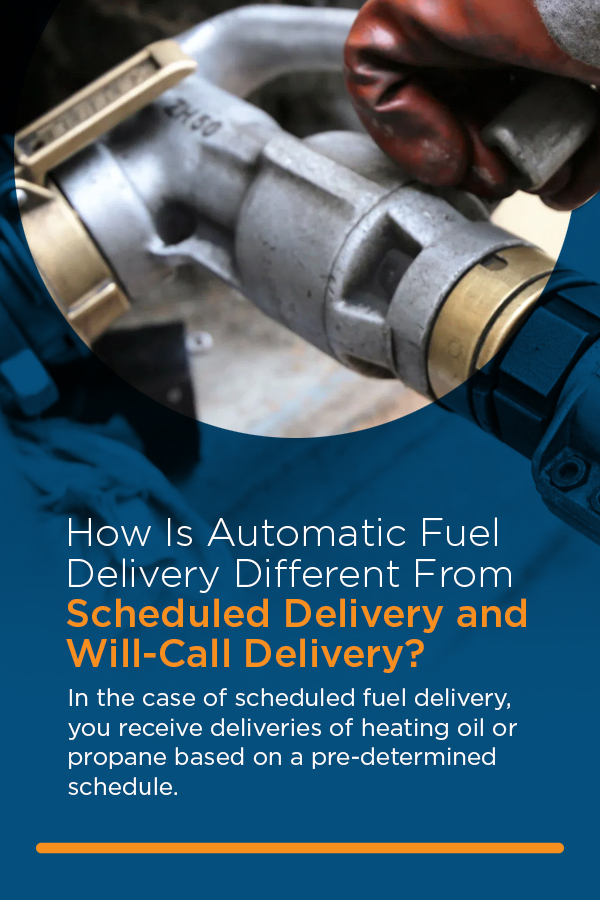 How Is Automatic Oil Delivery Different From Scheduled Delivery and Will-Call Delivery?
Automatic fuel delivery is different from scheduled delivery and will-call delivery in a few ways. If you decide to use will-call service, you take on the responsibility of monitoring your fuel tank and usage. It is up to you to take action and call for a new delivery when the available fuel in the tank gets low. With will-call, you only get fuel when you know you need it, but the responsibility is on you to make sure you don't run out of fuel.
In the case of scheduled fuel delivery, you receive deliveries of heating oil or propane based on a pre-determined schedule. Whether you actually need more fuel or not, the delivery will arrive based on the calendar. A benefit of scheduled delivery is that you can set it and forget it. The fuel will come without you having to call anyone.
Automatic fuel delivery is, in many ways, the best of all possible options. Someone else, such as SMO Energy, takes on the responsibility of monitoring your fuel tanks. We will send a new delivery of fuel out to your home when the level in your tank reaches a certain point. Your fuel levels will not drop low enough to be a problem, nor will you get a delivery when you do not need any fuel.

Benefits of Automatic Oil Delivery
Perhaps the biggest benefit of automatic oil and fuel delivery is that signing up for the service means you will have the fuel you need at the times when you need it most. You are likely to have the right amount of fuel before you need it, helping you to avoid a rush situation or the need to call for delivery when everyone else in Southern Maryland is doing the same thing. You can sit back and relax, knowing that you have plenty of heating fuel in the tank.
Along with helping you get the fuel you need, automatic delivery has a few more benefits.
1. Helps You Save Time
Think of all the things you need to do throughout the day, both at home and for your job. Now, think about how much time you can save if you can take one or more of those items off of your to-do list.
Automatic fuel delivery services help you save time by eliminating the need to monitor your fuel tanks and the need to call for a fill-up or schedule a fill-up online. With automatic delivery, you have a team out there, tracking your fuel tanks for you. There is no need to call, explain your situation and give detailed information about where the tank is located each time you need a refill.
Once you take "monitor and refill my fuel tank" off of your list of things to do, you might be surprised by how much time you gain.
2. It Is Cost-Effective
The price of heating fuel can fluctuate based on several factors, such as market competition, the price of crude oil and seasonal demand. Even when the price of crude oil is relatively steady, the price of heating oil tends to spike in the winter months, because of an uptick in demand. With automatic fuel delivery, your tank typically gets filled before cold weather arrives when the prices tend to be lower. You can beat the rush for fuel and save yourself some money at the same time.
Automatic fuel delivery is cost-effective for another reason, too. By monitoring your own fuel levels, you run a higher risk of not noticing that you need fuel until it gets very low. In that case, you'll need to schedule a last-minute, rush delivery at the peak of demand (this typically happens when temperatures drop). With automatic delivery, your tank will automatically be filled before it gets dangerously low, allowing you to avoid rush fees for your delivery or delays due to increased demand.
3. Budget Plans Are Available
As a home or business owner, you might keep a close eye on your budget and spending. You might not have the funds available to cover the full cost of a fuel delivery all at once. When you sign up for automatic fuel delivery from SMO Energy, you also have the option of signing up for a budget payment plan.
Our SmartPay program is free for clients. Instead of asking you to pay upfront for fuel delivery, the SmartPay program divides the cost of your services, including fuel, tank lease fees and service agreements, into easy monthly payments. To determine how much you will pay each month, we estimate the number of gallons of fuel you are likely to use during the year, then add in the cost of additional services, such as a service plan or tank lease. Every so often, we will review your payment plan to make sure that what you pay each month is accurate.
If you end up using more fuel than initially anticipated under the SmartPay plan, you will not end up with a hefty bill at the end of the year. Instead, the additional amount due will get divided up and added to your remaining payments.
When you sign up for a budget payment plan, you have several payment options. You can use a credit card or check or schedule automatic monthly payments directly from your bank.
4. Orders Will Be Consistent
With scheduled fuel delivery and will-call delivery, there is a fair amount of guesswork involved. When you set up a delivery schedule at the start of the year, you do not have a real idea of how the weather will be during the upcoming winter. You are basing your information on the past, which might not be accurate for the present or future.
With will-call delivery, you have the task of deciding when to order your next delivery. If you are not a fuel expert, you might wait until the levels in your tank are too low, or you might forget to schedule the delivery entirely.
Automatic delivery provides consistency. You will receive fuel when you need it, and you will receive the amount of fuel you need.
How does SMO Energy know when to fill up your tank? We look at a variety of factors, and we use an algorithm that calculates your fuel needs based on weather conditions, the insulation and efficiency of your home, and your previous usage. The algorithm is regularly updated so that we have the most accurate information about your fuel needs.
5. Gives You Peace of Mind
SMO Energy has been providing services to residents of Southern Maryland since 1926. Over the years, we have developed a reputation as a service provider you can trust. When you set up automatic delivery with us, you will gain peace of mind that your fuel tanks will not run dry and that you'll have the fuel you need when you need it most. Some of the ways we help to ensure our client's peace of mind and establish trust in the community include:
Offering same-day delivery.** We get the fuel to you when you need it most.
Offering more than just fuel delivery. Other services include tank installation and removal, tank warranty protection and equipment repair, service and replacement.
Live client care representatives. We have a team of trained representatives standing by to answer your questions. Our full Client Care team is available 7 a.m. – 7 p.m. Monday through Friday, and we have emergency staff available to answer your call 24/7/365.
No hidden fees. What you see is what you pay when it comes to our delivery fees.
Round-the-clock emergency service. Should you have a problem with your heater in the middle of winter, we'll be there for you. Our representatives can respond to heating emergencies any time and on any day.
6. Keeps Your Tank in Good Shape
Running out of fuel can be damaging to your tank and heating system. When your tank runs out of fuel, your heating system is likely to shut down since it is not getting the fuel it needs to keep going. You will likely need to call in a technician to restart the system after your fuel has been refilled. Running out of fuel can also cause sediment and sludge from the bottom of your tank to enter your heating system, potentially causing clogs in your fuel lines.
Keeping fuel in the tank helps it continue to operate consistently and minimizes unnecessary wear and tear on your entire system.
You Have Fuel Options
No matter what type of fuel you need, SMO Energy is likely to have it. We provide automatic delivery of:
Heating oil. If your home or business uses oil for heat or hot water, we will help to keep your tank full all season long.
Propane. We also offer propane, or liquefied petroleum gas, deliveries to homes and businesses throughout Southern Maryland.
Kerosene. Delivery of kerosene is available to businesses in Southern Maryland. SMO Energy offers both clear and dyed kerosene which can be used for heating and cooking or as vehicle fuel.
Motor fuel. For commercial clients, SMO Energy offers automatic delivery of motor fuels, including off-road and on-road diesel and gasoline. We use a tank monitoring system to make sure you never run out of gasoline. With automatic motor fuel delivery from SMO Energy, you can make sure your business never has to come to a grinding halt.
Getting Started With Automatic Oil Delivery
How have you been receiving heating fuel at your home or business? If you have not been satisfied with the process or if you often find that your tank runs low, it might be time to switch to automatic delivery. With automatic delivery, you can take advantage of worry-free fill-ups, budget payment plans and the peace of mind that your home or business will have the fuel it needs to get through cold winter days and nights in Southern Maryland.
SMO Energy is pleased to be a total home comfort provider and to take care of the fuel needs of commercial clients, too. If you are ready to set-up automatic fuel delivery and want to put together a payment plan that works for your budget, contact us today.
*No delivery fee applies to all deliveries 100 gallons or more, same-day delivery is applicable to a fee. **Same day and next day delivery service is subject to change based on weather conditions. Unsafe road conditions create an unnecessary risk to SMO drivers and the environment.