Heat Pumps for Your Home in Southern Maryland
What is a heat pump, and do you need one to heat your home? A number of homeowners appreciate the benefits of heat pumps, and if you are not happy with your current heating system or feel that your current system is not operating efficiently, you may want to consider heat pump installation. In Maryland, it can get very cold in the winter, and heating bills can get high. For some, a heat pump is the answer. If you have had a heat pump for a long time, you may also want to consider whether or not it is time for heat pump replacement. Heat pumps help achieve total home climate control and comfort.
How Do Heat Pumps Work?
A heat pump is a device that redistributes air throughout a home in order to regulate its temperature. Heat pumps help achieve total home climate control and comfort by pulling warmth from the air, compressing the air and then transferring the heat where it is needed throughout the home. They look and perform like air conditioners, only they can also heat your home. Using electricity as an energy source rather than heating fuels, heat pumps extract heat from the air to keep you cool during the summer, warm in the winter and comfortable all year long.
Types of heat pumps include:
Water pumps or air pumps that may be split systems
Mini-split ductless systems
Package units
What Are The Benefits of Heat Pumps?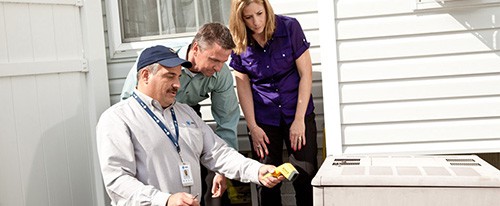 The major benefit of the heat pump is that it can provide dramatic savings on your heating costs. It is also a greener solution to heating as it does not rely heavily on fossil fuels like furnaces and boilers. They operate quietly, last longer, provide better air quality, and can even work in tandem with other home heating systems. Proper maintenance of heat pumps ensures maximum efficiency and performance. This includes cleaning and annual tune-ups to ensure all parts are functioning properly, as well as changing the filters monthly. When components go too long without cleaning or maintenance, it can lead to restricted air flow, compressor damage, shortened unit lifespan, and costly repairs.
How Do You Know If You Need a Heat Pump Replacement?
While you should have your heat pump cleaned and maintained regularly, the system should last for some time without needing to be replaced. Some signs that you should opt for heat pump replacement include:
Your heat pump is very loud.
You keep needing to replace the freon.
The unit is icing up.
You are not getting the right temperature in your home.
You have leaky ducts.
Your utility bills are unusually high.
If you have a unit that is less than 10 years old, repair might be sufficient. If it is older than 10 years, however, or if you are finding that you are calling for repairs frequently, replacement is probably your best option. At SMO Energy, we provide free energy consultations so you can make an informed decision about whether heat pump repair or replacement is the best option for your home. Our expert consultants will take the time to listen to your needs, answer your questions and measure your home to provide appropriate equipment recommendations.
Contact SMO Energy for Heat Pump Installation and Heat Pump Replacement in Maryland
If you do decide you need a new heat pump or you need heat pump repair or maintenance in Southern Maryland, SMO Energy is the company to contact. We have fully-licensed, highly-trained, NATE-certified technicians who can handle all of your heat pump needs. For great heating and cooling services in Anne Arundel County, Charles County, St. Mary's County, Calvert County, Prince George's County, and the surrounding areas in Southern Maryland, contact us today for a free in-home estimate.