A Leader in Propane & Heating Oil Delivery for Charles County
As one of the leading propane companies in Charles County, we're also a leader in the County's propane delivery. With a history that extends more than 124 years, we've become a company the community trusts when it comes to finding a propane provider that offers exceptional service, staff, prices and much more.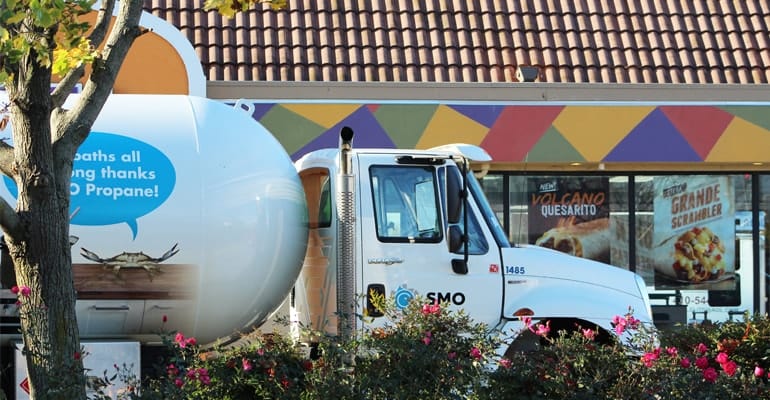 Why We're the Trusted Name in Heating Delivery for Charles County
When it comes to propane delivery in Charles County, families and businesses choose us for the following reasons:
Fair and transparent pricing
High-quality propane
Free standard, next-day or same-day delivery
Zero hidden fees
We also fill tanks of several sizes, from a 100-gallon tank to a 1,000-gallon tank. Other reasons why homeowners and companies choose us instead of other propane and heating oil companies in the Charles County area include:
Interested in our services?
Fill out this form and one of our Client Care representatives will contact you shortly.
Versatile scheduling: Setting up a Charles County propane delivery is simple with SMO Energy. Request a delivery online or by phone. You can also use our automatic delivery service, which is free and convenient.
Easy-to-access online account: Checking your account status, from open and paid invoices to delivery orders and service requests, is straightforward with our free online account portals. And if you need help from someone, our live Client Care Representatives are ready to help!
24/7/365 emergency service: Keeping your home or business warm without a heating system isn't easy. We take a customer-focused approach and consider you a member of our family, which is why we offer emergency service every day and every hour of the year.
Custom payment plans: Distributing your heating bills across the year is a convenient, customer-favorite option. Through our free SmartPay Budget Plan, we estimate your annual fuel needs and spread that cost across the year to provide you with low monthly propane heating prices for Charles County.
Contact us today to request a free propane quote or schedule a heating oil delivery!
We provide heating oil delivery services to Anne Arundel, Prince George's, Charles, Calvert, and St. Mary's Counties! Call us today and ask about our new client discount.
Additional Charles County Heating Oil and Propane Services
While companies and families know us as a propane deliverer for Charles County, we're also a provider of other propane-related services:
Consultations: With our recommendations and consultation services, we provide you with the tools and information to make an educated choice when it comes to choosing a new propane tank for your home or business. This service also includes setting up your new or leased equipment.
Conversions: Heating oil prices in Charles County can be one motivator for switching to propane. Other common incentives include the fact that propane is a cleaner and more efficient energy source. It also includes a credit up to $1,000 when you convert to the SMO Energy team.
Installations: As one of the leading propane companies in Charles County, we pride ourselves on following the extensive precautions that come with installing one of our purchased or leased propane tanks. These safety measures include obtaining the required permits, meeting the American Society of Mechanical Engineers (ASME) standards and installing the correct tank size.
We also offer preventative maintenance services, which keep your heating system in top condition.
Discover Our Propane Heating Prices in Charles County With a Free Quote
With more than nine decades of experience serving the Charles County community, we've become a leading provider of propane and other heating fuels. By treating our customers like family, through fair prices, quality service, and excellent team members, we've built a company that people trust.
Become a part of our family today by requesting a free quote for propane heating prices in Charles County!