Homeownership is the American dream, and buying a house is a rite of passage for many people. However, when you own your home, you are responsible for its upkeep, care and any repairs or maintenance — unlike when you rent a home and can report any problems to the landlord for them to fix. You are also more likely to stay in a home you own for longer than you would live in a rental. 
Since your home is your castle and your responsibility, buying a house that meets your needs and does not end up costing you a lot in terms of time and money for upkeep is essential. As you go about your home search, here are some factors you should consider when buying your house.
1. The Enjoyment of Your Home
Your home is where you sleep, eat, study, watch TV and so much more. It is vital that you enjoy every aspect of your house, from the bedrooms to the storage space. When looking at homes to buy, some of the things to consider that will affect your ability to enjoy the property include the positioning of the house, the number of windows it has, the number of bathrooms it has, the amount of storage space available and the size of the outdoor space.
In terms of the house's position, pay attention to the direction it faces as well as the direction of certain rooms. For example, if the kitchen is on the eastern side of the house and has a window, it will get light first thing in the morning. Bedrooms on the west side of the house won't have the sun shining in first thing, but they will get plenty of afternoon light. 
Also, pay attention to the windows in the home and what you see when you look out of them. Are there enough windows that the house gets plenty of natural light in the daytime, or will you need to use lamps at all times? Do the windows offer a view, or do you see another building when you look outside? 
Think of the things your family likes to do for fun and whether or not the house will accommodate those activities. If you enjoy picnics or barbecues, does the yard offer enough room for either? Consider the lawn and its size, especially if you do not relish the idea of spending summer afternoons mowing the grass all day.
As you visit for-sale homes, carefully consider the layouts of the interiors and ask yourself how the structure of the home will affect your ability to live in it comfortably. For example, if the bedrooms are directly next to each other, will having a teenager who stays up late watching TV or playing video games in one room make it difficult for a younger child in the adjacent room to sleep? If a bedroom is on the same floor as the main living space, ask yourself if having people awake and moving around in the kitchen or living room will disturb the person in the bedroom. Privacy is another thing to consider. Is the main bathroom tucked away at the end of the hallway or is it front-and-center or right off the kitchen or living room?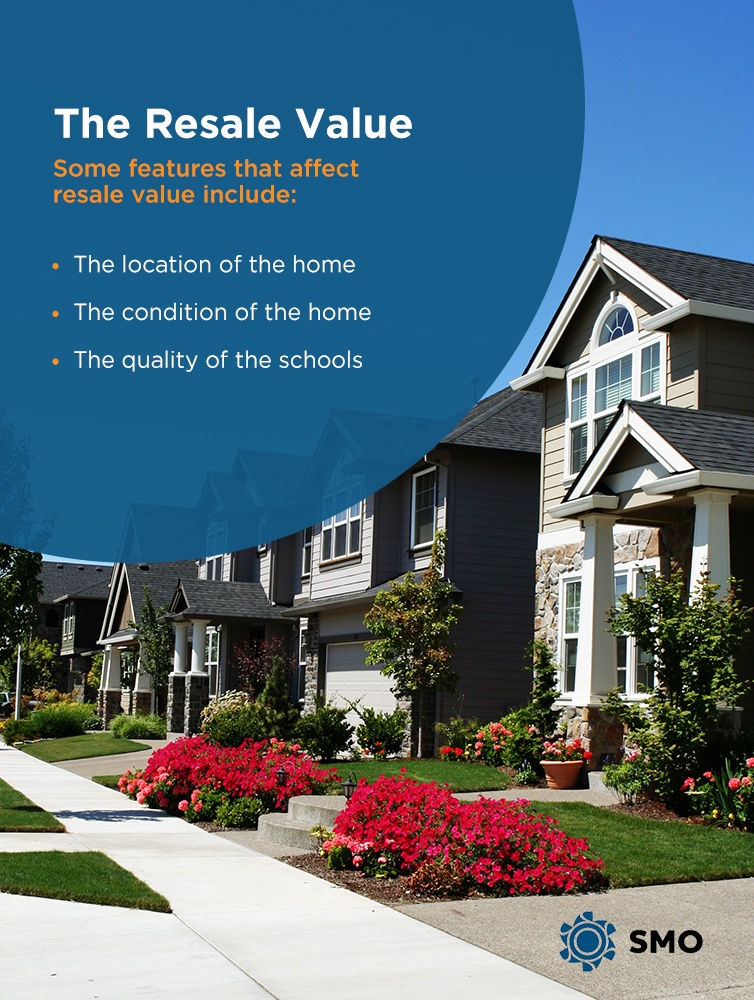 2. The Resale Value
Although you might hope to live in your house forever once you have finally found the right one, there is a chance you will need to move at some point in the future. Ideally, you will not only get the purchase price of your home back when you sell, but also a bit extra. Buying a home that has a good resale value will mean you have a chance to make some money when you sell the house. It also means it will likely be easier to sell the house when it is time to move on.
As with any other investment, there is no guarantee that the home you buy will gain value over time or that you will be able to earn money on the sale. There are certain features to look for, though, that will help make it more likely that the home will be attractive and valuable when it is time for you to sell. Some features that affect resale value include:
The location of the home: Most things about a house can be changed, but the one thing you cannot change is the location. If a home is situated in a neighborhood that has lots of amenities, such as parks, grocery stores and coffee shops, it is going to be more in-demand and more likely to have a higher resale value than a home that is far away from everything. A home in a quiet section of a bustling or popular neighborhood is more likely to have excellent resale potential than a home on a busy street.
The condition of the home: Even if the house is somewhat shabby inside, if it has "good bones," it will be more likely to sell for a higher price. The condition of the home's HVAC system and other essential equipment also affects the resale value.
The quality of the schools: A major thing parents with children look for when buying a home is a property in a top-rated school district. Even if you do not have children, you might want to consider buying a house in a district that is in-demand with parents.
3. The Anticipated Maintenance
All homes need maintenance to keep their systems up-and-running and to avoid larger problems or more expensive repairs. But some homes need more maintenance than others, based on their size and the number of appliances they have. When buying a house, you need to know what you will need to do to keep it in good shape.
For example, if your home has a large yard, you will likely need to mow the grass frequently. If there are a lot of trees on the property, you may have to spend several hours a week picking up sticks and fallen branches. In the fall, leaf cleanup might be a big chore. You can outsource lawn and yard care to a landscaping company, but doing so will mean an additional expense.
The systems in your home will require annual tune-ups and maintenance to ensure they are in good condition and to keep them running efficiently. You might decide to sign up for a service agreement that includes a yearly tune-up and that will provide coverage in case repairs are necessary.
Before buying your home, it can be worthwhile to make a list of all the general upkeep and maintenance requirements it will need to stay in good working order. During the home inspection, the inspector can give you an idea of what tasks typically need to be done and how frequently, providing you with an accurate idea of how much work the home might need.
4. The Age and Style of the Appliances

Home appliances do not last forever. Even if your new home includes a washer and dryer, a refrigerator, an HVAC system and a stove, there will likely come a point when you will want to or need to replace them. The older the appliances are when you buy the home, the sooner they are likely to need to be replaced.
There are other benefits to buying a house with newer appliances. New appliances typically use a lot less energy than older models. A new, energy-efficient washing machine uses one-quarter less energy than an older model. It is also likely to use about 75% less water.
The type of appliance also matters when you buy a home. If you prefer to cook on a gas stove, you might prefer buying a house that comes with a gas range. You can replace an electric stove with a gas one, but doing so can be expensive, especially if you need to install a gas line. If you like to have a lot of food on-hand in case of emergencies or if you have a large family, a small refrigerator and freezer might not be large enough to hold all of your food for the week.
When you find a house you like, have the home inspector carefully evaluate each appliance to make sure it works. The inspector can also let you know the average lifespan of various appliances and about how long you can expect the ones that come with the house to last. It is also a good idea to have the seller include warranties and manuals for each appliance with the sale, in case you need to replace or repair anything that is still under warranty. Having the manuals handy will be useful if you have difficulty figuring out how a particular appliance works or if you need help troubleshooting an issue.
5. The Location of the House
There is a reason why real estate agents stress the importance of a home's location. The area where your home is situated can make a significant difference in your ability to enjoy it. If you like being in the center of the action but end up buying a house in a rural location, you are probably not going to be happy. If you prefer peace and quiet but buy a home in the middle of town, your enjoyment is likely to suffer, too.
The location also influences the resale value of your home and the overall convenience of it. If you have children, it is usually a good idea to buy a house in the school district where you would like them to go to school. If you plan on sending your children to private school, your home should not be too far from the school, to make it easier for you to bring your children to school in the morning and pick them up again in the afternoon.
Consider your convenience when assessing the home's location. If you will need to commute to work, find out how long it will take you to get to your job and what the traffic conditions will be like. It is also worthwhile to consider how far the home is from the businesses you need, such as grocery stores, hair salons and doctors' offices. 
One last thing to consider when it comes to the home's location is how close you will be to neighbors. Do you want to be able to see your neighbors' houses and be able to run next door to ask to borrow ingredients or other items? Or, would you rather be far away from others and to have a lot of land around your home?
6. The Amount of Time and Effort Required for Repairs
Buying a fixer-upper can be a great way to save money on your home purchase. A fixer-upper also gives you the option to put your own personal stamp on your new home. Before you buy a house that needs a considerable amount of repairs, though, you want to be sure you have the time and energy to devote to those repairs. It is a good idea to figure out how long it will take to fix up the house before you can move into it. 
There are also different levels of fixer-upper. Some older homes just need a few cosmetic improvements to be move-in ready. Others need considerably more extensive updates and improvements. For example, a home with structural issues or an old, leaky roof is going to take longer to improve and repair than a house that only needs new flooring, new paint and a few updated appliances. 
When calculating the amount of time needed for repairs, be sure to add a cushion, as most fixer-upper projects take longer than planned. You will also likely want to over-estimate your budget, giving yourself a 10% cushion, in case expenses are higher than you anticipated.
Your home inspector can be an invaluable resource if you plan on buying a fixer-upper. They can give you a thorough run-down of what sort of work the home will need and how much each project might cost. Based on the information you get from the inspector, you should be able to see if the cost of the home is worth it when compared to the amount of work it needs and the projected costs of the repair projects.
7. The Energy Efficiency of the Home
Your monthly mortgage payment is just part of the overall costs of your home. You also need to pay for the energy you use at home, and some things affect your home energy costs more than others. For example, heating and cooling your home is likely to account for 43% of your total energy costs. Heating water typically accounts for about 20% of your home's energy bill, and running various appliances is usually responsible for 9% of the bill.
Since energy can make up a significant part of your budget, it is worth it to consider all of your energy options for a new house and to find out what you can do to make your new home more energy-efficient, if needed. The first place to start is with an energy audit of the home.
An energy audit is one way to tell if your home is energy efficient. Some sellers might perform an energy audit before they list the home and make changes based on the results of it, to make their homes more appealing to buyers. An energy audit can also be performed as part of a home inspection. During it, the auditor looks at the age of the appliances and their condition, as well as the condition of any ductwork. They will measure doors and windows, then input the measurements and other data into a spreadsheet to calculate the home's score. A home that gets a rating of 10 is very energy-efficient while a home with a score of 1 is less energy-efficient than the majority of homes in the U.S.
You can also schedule a home energy consultation after you have purchased the home to get a better idea of where it stands in terms of energy efficiency. During the consultation, an energy consultant from SMO Energy will visit your home, assess your current appliances before recommending any changes to make to increase the home's efficiency and reduce your energy bills.
Let SMO Energy Increase the Total Home Comfort of Your New Home
Once you've finalized the purchase of your new home in Southern Maryland, SMO Energy will be here for you to help make the house as comfortable as possible. As a total home comfort provider, we offer repair and installation of heating and cooling equipment, water heater repair and installation, indoor air quality products and standby generators. If you have any questions about what your home needs or what you can do to make your home more comfortable, we are here to answer them. Contact us today to learn more or to schedule your free, in-home energy consultation.