Furnace Replacement in Maryland With SMO Energy
If you use a furnace to heat your home, keeping it working optimally and replacing it when necessary is a must. Furnaces are similar to boilers in that they distribute heat throughout your home to keep you warm. Boilers do this by means of sending heated water through a plumbing system, while furnaces heat air and send it through your ducts.
Furnaces can last for many years as long as you have it cleaned regularly, but the older your furnace is, the less likely it is to burn your heating oil efficiently — and that means higher energy costs. Making sure the system is properly maintained and functioning as efficiently as possible can help maximize its lifespan, reduce energy costs, and achieve total home comfort.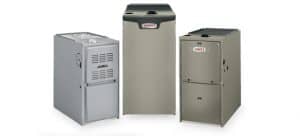 How to Know If You Need A New Furnace
There are several warning signs that could indicate your furnace is not working properly and that it may be time for a repair or replacement. If your furnace is not effectively heating your home or if you are finding it in frequent need of repair, you will want to think seriously about replacing it. However, you do not want to find out that your furnace is not working in the middle of winter. If your furnace is 10 years old or older, you will definitely want to replace it as soon as possible. Furnaces do typically have a life of 10 to 15 years, but new furnaces are also dramatically more efficient than the ones made 10 years ago. In fact, a new furnace can have an Annual Fuel Utilization Efficiency (AFUE) of as much as 98 percent, while one of the older models is likely to have an AFUE somewhere around 65 percent.  Today, the efficiency of furnaces is measured by the annual fuel utilization efficiency (AFUE). New furnaces are up to 98% AFUE, unlike older furnaces which are only about 65% AFUE. This can save your household up to 35 cents for every dollar spent.
By replacing your furnace with a more efficient model, you can enhance the heating quality of your home and reduce heating fuel costs. To further increase the efficiency of your furnace, regularly inspecting your home's duct and ventilation systems is also recommended. Additional signs of furnace malfunction include unusual noises, infrequent cycling, and inconsistent temperatures. When investing in a new furnace, ensuring you work with a licensed and experienced company is crucial, since the performance of the unit hinges on proper installation and maintenance.
Why Choose SMO Energy For Your Furnace Installation in Maryland?
When you are purchasing a new furnace, you want an experienced heating and oil company you can trust to do the job right. In Southern Maryland, there is no question SMO Energy is that company. We are a family-owned, locally operated company that has been providing superior service for our Maryland residents for over 90 years — and we know heating equipment. We know when they are working well, when they need help and when it is time for a replacement. We can quickly and easily install a brand-new furnace that can dramatically reduce your energy costs.
Our fully trained, licensed, NATE-certified technicians can install your furnace as well as provide needed repairs and/or regular maintenance to make sure your furnace is working optimally at all times. Whatever the job is, our team has done it before and is happy to do it for you.
Contact SMO Energy for Furnace Installation, Repair or Maintenance in Southern Maryland Today
No matter what type of furnace service you need, we can help. We offer 0% financing, low monthly payment options and automatic fuel delivery. To get started, contact us for a free estimate and free in-home energy consultation — our experts will assess your current system and help you find the most effective heating solution for you. For furnace replacement in Anne Arundel, St. Mary's, Calvert, Charles and Prince George's Counties and the surrounding areas, contact SMO Energy today!