Never Run Out of Hot Water With A Tankless Water Heater
Hot water isn't just a convenience; it's a necessity. From washing dishes to showering, your water heater plays a pivotal role in your daily activities. It is also one of the largest energy-related expenses, accounting for about 18 percent of utility bills. Because water heaters are so important to your home's comfort, making sure your system performs at peak levels with as much efficiency as possible is of utmost importance.
Water heaters should be professionally serviced at least once a year. Regular and preventative maintenance is key to avoiding costly repairs and maintaining optimal levels of performance. If your water heater is at least 10 years old, it may be time for an upgrade.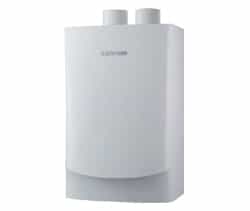 Water Heater Replacements and Installations
Deciding which water heater offers the best value comes down to a number of factors, such as fuel source, efficiency, water usage, and size. The energy efficiency of water heaters is determined by the Energy Factor (EF) - a calculation of how much hot water the appliance produces versus how much fuel it consumes. If your water heater has an EF of at least 0.82, you can qualify for federal tax credit. There are two main types of water heaters: storage tank and tankless. Conventional hot water heaters keep water in storage tanks at a set temperature and distribute hot water on an as-needed basis. They are the most popular. However, if you're in the market for a water heater upgrade or new installation, you may want to consider tankless water heaters.
Benefits of Tankless Water Heaters
These appliances can be fueled by either gas or electric. They heat water directly, delivering a continuous flow so you never run out of hot water. This is why they are regarded as the most energy efficient option. When properly maintained, tankless water heaters often have a lifespan of at least 20 years (approximately twice that of conventional storage tanks). And because they only run when an appliance calls for water or a faucet is opened, there's no energy wasted.
For homes with high daily water demands, multiple tankless heaters can be installed. Using separate units for each major appliance or hot water outlet can increase energy efficiency, prolong the life of the equipment, and lower operational costs.

Why Choose SMO?
At SMO we are a full home comfort solutions provider servicing Southern Maryland, Anne Arundel County, and Prince George's County. We offer free in-home estimates, no hidden charges, 0% financing and low monthly payment options on new equipment. We can help you with all your heat pump and tankless, propane, and gas water heater needs, including:
New equipment installations
Replacements
Repairs
Maintenance