A Propane & Heating Oil Delivery Leader for St. Mary's County
At SMO Energy, we're a leader in propane and heating oil delivery for St. Mary's County. By offering competitive and transparent prices, knowledgeable technicians and exceptional service, we've set ourselves apart from other propane companies in St. Mary's County.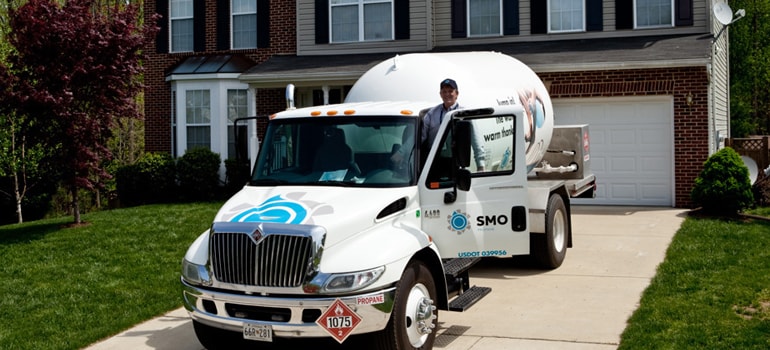 Benefits of SMO Energy Delivery in St. Mary's County
We've become the choice for families and businesses because we offer several advantages that benefit you and your family:
Premier-quality propane
Competitive rates
Free regular, same or next-day delivery
No hidden charges
Our delivery teams also fill a range of tank sizes, from up to 1,000 gallons to as little as 100 gallons. What else makes us the leading choice for propane delivery in St. Mary's County? The following SMO Energy features:
As-needed, scheduled or automatic delivery: Have your heating fuel delivery on your terms with our delivery options. Select our free automatic delivery to avoid checking your fuel tank throughout the year or plan your fuel deliveries. As-needed deliveries can be scheduled by phone or online.
Customized payment plans: Our propane heating prices in St. Mary's County become even more competitive with our tailored payment plans. Through our free SmartPay Budget Plan, we provide you with a low payment each month by estimating your annual fuel usage.
Multi-purpose online portal account: With your free online portal account, you can manage your payments, deliveries, service requests and more without even leaving your home or picking up the phone. If you do have questions, you can always call our experienced representatives.
All-day and year-round emergency service: When your heating system fails, you don't have to wait until Monday. Our team is always available and ready to take your call seven days a week, 24 hours a day and 365 days a year.
Schedule Your Free In-Home Energy Consultation
Not sure if it's time for a new furnace? Don't know what type of furnace you need? Fill out this form and one of our Client Care representatives will contact you shortly to schedule your free in-home energy consultation.
Contact us today to request a free propane quote or schedule a heating oil delivery!
We provide propane and heating oil delivery services to Anne Arundel, Prince George's, Charles, Calvert, and St. Mary's Counties! Call us today and ask about our new client discount.
Additional Services for Propane and Heating Oil in St. Mary's County
Providing propane and heating oil to St. Mary's County is one part of our total home comfort services. We also offer additional services that focus on propane as well as heating and powering your home with high-quality equipment that's installed by our professionals. Our propane-related services include:
Consultations: Find the best high-quality tank for your home with our consultation and recommendation services. With our team's expertise, we'll present you with the best propane tanks for your home and energy needs. We'll also connect your newest and existing propane appliances.
Conversions: Our available conversion options make it a simple process to transfer to propane from heating oil. Propane is more cost-effective compared to heating oil prices in St. Mary's County. It's also cleaner and more efficient than heating oil and comes with a credit of up to $1,000.
Installations: Whether you've purchased a new propane tank or chosen to lease one from us, you can count on our propane specialists to install your container to the highest safety standards and regulations. We make sure your tank is the appropriate size and installed using permits and the rules set by the American Society of Mechanical Engineers (ASME).
See Our Propane Heating Prices in St. Mary's County With a Free Quote
For more than 124 years, SMO Energy has provided communities across Maryland, including St. Mary's County, with exceptional services, high-quality heating fuel and outstanding technicians, representatives, and specialists. As a full-service, family-owned business, people across the region trust us for all their home comfort needs.
Choose SMO Energy for your energy demands by requesting a free quote today for propane heating prices in St. Mary's County.