SMO Energy for Dependable Propane Delivery Service in Maryland
More and more residents of Maryland are coming to appreciate the benefits of propane gas for home heating, and those who do know come to SMO Energy for their propane gas and propane delivery requirements. We are a family-owned and locally operated company that has been in business since 1926, so we understand the needs of our clients when it comes to home heating.
SMO Energy Is Your Full-Service Propane Gas Company
If you need propane gas delivery for your fireplace, cook stove, water heater, pool heating, or general home heating, we have the propane solution for you. We are more than just a propane delivery company. We are a full-service home comfort provider, and we can guide you through the entire propane heating process — from finding the appropriate tank for your home and connecting all of your appliances to the system, to suggesting any necessary propane home heating equipment.
If you are currently using home heating oil or electricity and are interested in switching to propane gas for a more efficient, cleaner and cost-effective energy solution, our team is ready and waiting with a variety of conversion options to meet your needs.

Why Choose SMO Energy for Propane Delivery?
At SMO Energy, we treat every client like they are our only client, and we have the skilled and passionate personnel to do just that.
When you choose us for propane delivery service in Maryland, you will enjoy the benefit of attention from propane specialists who know how to install and fill your tank smoothly and safely. You will never get hit with any hidden delivery fees. The price per gallon we quote you for our propane is what you pay.
Thanks to our large fleet of trucks and local service area, you will also get your propane fast, so you will never have to worry about being without heat. Call us or order online, and you will receive your propane quickly, often the same day or next day. To make sure you never run low on propane, you can be set up our easy automatic delivery plan for free as well. We also offer helpful monthly payment plans at no additional charge, and you can manage everything easily and conveniently through your online account.
Be sure to call us whenever you need emergency service as well, even late at night, on weekends and on holidays. We are always here for you to keep you warm.
As one of Maryland's local propane companies, we stand out from other propane delivery companies by treating you like family. We're excited to work with you and help you heat and power your home, which is why when you're a part of the SMO Energy family, you receive these benefits:
Propane Specialists — As a leading propane supplier, our team consists of experts in their field. Our propane specialists know local propane regulations and will make sure everything from your tank's installation to your propane gas refill is seamless and safe.
*No hidden propane gas delivery fees — Many propane gas companies include hidden charges in their propane delivery costs, like hazmat and regulatory fees. At SMO Energy, we exclude hidden fees from our invoices. All you pay is the price per gallon.
Transparent per-gallon pricing for high-quality propane — By having zero hidden charges, we fulfill our commitment to providing transparent propane gas prices. And while some propane delivery companies will offer clear-cut pricing, they may not deliver premium propane like we do, which performs better.
**Same-day or next-day delivery — Whether you place your propane delivery order online or by phone, you can count on our same or next-day delivery. We manage these fast delivery times by maintaining a large fleet of delivery trucks.
Free automatic delivery — With our free automatic delivery plans, you can skip making an online propane delivery order and instead trust us to keep your tank full. We'll monitor your propane usage and then top-off your propane supply.
Free monthly payment plans — We go the extra mile with our propane home delivery services. For additional savings and convenience, we offer a SmartPay or SmartPay Plus Budget Plan. Both are free and spread your payments across 12 months for a low bill every month.
Online account management — We make online ordering of propane simple with our online accounts. Your account lets you request a propane delivery, schedule a service, pay your invoices, manage your past payments and more.
Emergency service year-round — While many local propane distributors close during the holidays, SMO Energy is always open. Every day and hour of the year, our team of experienced representatives is here to take your call and help you.
By being passionate about what we do and building our services around our customers' wants, we've become one of the most trusted providers of propane in Maryland.
Our Propane Delivery Service Area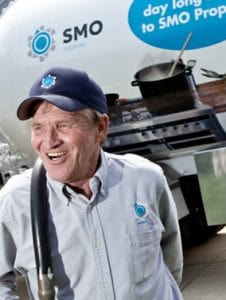 At SMO Energy, we're proud to serve families across Southern Maryland — and even prouder to have served some of them for generations with our quality propane, friendly team, and affordable propane delivery prices for Annapolis, MD, and beyond. Our residential propane services cover more than 2,500 square miles and include the following counties:
Prince George's
Mary's
Charles
Calvert
Anne Arundel
While some propane home delivery companies raise their prices by delivery zones, we provide free delivery to each of the counties we service. Whether you need propane in Annapolis, MD, or Leonard Town, MD, you can expect free delivery, zero fees and premium propane.
What to Expect When You Meet with Our Propane Specialist:
When it comes to your home's propane needs, we send our Propane Specialist to meet with you personally and survey your home for the safest place to install your propane tank, as well as survey the current placement of an existing propane tank. At this time, the specialist will also review all appliances that need to be connected to the tank, as well as future plans for additional appliances, such as an outdoor propane fireplace, or a propane laundry dryer.
During Your Propane Site Survey Our Specialist Reviews:
Safe placement of propane tanks
Compliance with local regulations
Propane usage and pricing
Free gas safety check
Automatic and Will Call delivery options
Monthly payment plans and financing options
Contact Us for Reliable Propane Delivery Service in Maryland Today
We are proud to serve homes and families all over Southern Maryland, including Prince George's, Mary's, Charles, Calvert and Anne Arundel Counties, with free delivery.
To get started, call 1-800-222-3720 or contact us online to set up a meeting with one of our propane specialists. They will assess your home's propane needs and tell you everything you need to know to begin enjoying safe, energy-efficient propane gas heating.
Find out how you can qualify for extra savings and up to a $1,000 discount when you convert to propane with SMO Energy.
Schedule My Propane Site Survey
*No delivery fee applies to all deliveries 100 gallons or more, same day delivery is applicable to a $50 fee. **Same day and next day delivery service is subject to change based on weather conditions. Unsafe road conditions create an unnecessary risk to SMO drivers and the environment.