A Leader of Propane & Heating Oil Companies in Anne Arundel County
With more than nine decades of experience serving the communities of Maryland, our family-owned business has become a leader among propane companies in Anne Arundel County. Families trust us when it comes to heating their homes with propane and heating oil because of our quality services, transparent pricing, and exceptional team.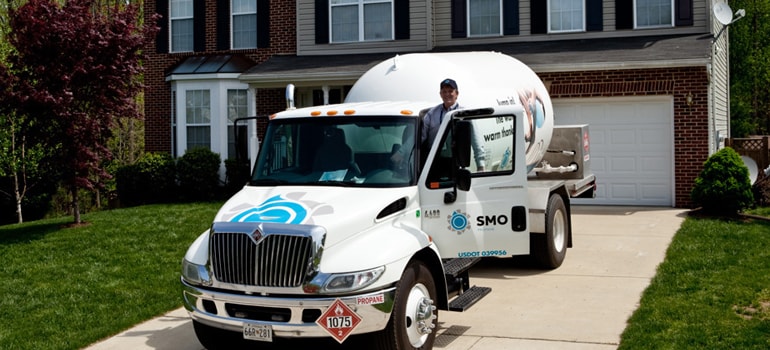 Heating Delivery in Anne Arundel County
SMO Energy is synonymous with propane delivery in Anne Arundel County. With our customer-focused approach, we provide several advantages:
Free delivery, including next or same-day
Competitive and transparent pricing
First-class heating fuel
Superior customer care
Alongside our outstanding service team, zero hidden fees and fair propane heating prices for Anne Arundel County, we also fill propane tanks of all sizes. Whether your tank holds 100 or up to 1,000 gallons, we can fill it with propane for you. What other benefits come with choosing us as your propane provider? Quite a few:
Schedule Your Free In-Home Energy Consultation
Not sure if it's time for a new furnace? Don't know what type of furnace you need? Fill out this form and one of our Client Care representatives will contact you shortly to schedule your free in-home energy consultation.
Flexible delivery: Our propane delivery in Anne Arundel County is based on your needs. Order your heating fuel online, by phone or with our free automatic delivery. With our automatic deliveries, we take the worry and time out of monitoring your fuel tank.
Convenient account access: Review all your account details online through our convenient and free online portal. Use it to schedule your next fuel delivery, submit a service request or pay your most recent bill. You can even review your past billing statements.
Year-round emergency service: Your home requires heat throughout the seasons. That's why we're available 24 hours a day, seven days a week and 365 days a year. No matter what time it is, our representatives will be there to answer your call and help your heating system become operational again.
Cost-effective budget plans: Even the best propane heating prices in Anne Arundel County can impact your holiday budget. With SMO Energy and our SmartPay Budget Plan, your budget for holiday gifts doesn't have to change. By estimating your annual fuel usage, we spread the cost of your fuel throughout the year so your monthly payments stay low.
Additional Services for Propane & Heating Oil in Anne Arundel County
Our family-owned company provides propane and heating oil to Anne Arundel County as well as several other services. Our secondary propane offerings include:
Consultations: Replacing or updating your propane tank and heating system is an undertaking. Our propane specialists help make the process easier. Through our one-on-one consultations, we'll find the best tank for your home and take care of connecting it to your appliances.
Conversions: Switching from heating oil to propane is simple with SMO Energy. We support several conversion options that make the move fast and painless. Our available credit of up to $1,000 also makes the switch even more convenient and greener.
Installations: Aside from our appliance setups, we also offer propane tank installations. Our propane specialists take several precautions, which include selecting the right tank size, acquiring the necessary permits and following the American Society of Mechanical Engineers (ASME) designated rules when placing your new or leased propane container.
You can also adopt our preventative maintenance services to keep your tank in tip-top shape.
Receive a Free Quote for Propane Heating Prices in Anne Arundel County
Becoming one of the leading propane and heating oil companies in Anne Arundel County is an achievement that's resulted from our team and family's dedication to you, the customer. We treat you like our own family, which is why we work every day to provide fair prices, exceptional service, and emergency care. That's an approach that Maryland businesses and families have appreciated for more than 124 years.
Become a part of our family today by requesting a free quote for propane heating prices in Anne Arundel County.