Labor Day weekend is the last chance to squeeze out a vacation, go to the beach, or fire up the grill. No matter how you are celebrating, we have a few tips to help keep you safe:
If You Are Traveling:
Carry an emergency kit in the trunk of your car.
Check the weather, and try to plan to drive in the optimal conditions for that day.
Have a list of emergency phone numbers ready.
If you are driving, buckle up and follow the speed limits.
Please drive responsibly and always use a designated driver.
If You Are Celebrating Outside:
Check the weather, seek shelter if a storm occurs and drink plenty of water if there is a heat advisory to avoid heat stroke.
Wear sunscreen to prevent sunburn.
If You Are Celebrating Near Water:
If you're heading to the beach, check the water conditions beforehand.
Always swim in the designated swim areas.
Make sure there is constant supervision of children near water and always stay within arm's reach of young children and inexperienced swimmers.
A U.S. Coast Guard-approved jacket is recommended for young children and inexperienced swimmers.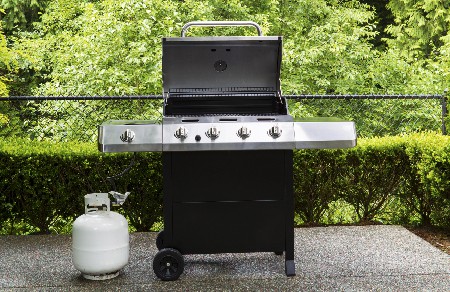 If  You Are Grilling:
Keep the grill away from anything that can easily catch fire.
Keep children and pets away from the grill at all times.
Never add lighter fluid to charcoal coals after they have already been ignited.
Remember to visit a certified propane refill center or tank exchange retailer if you need propane for your grill.
When transporting your propane grill tank, always secure the cylinder in an upright position. Do not leave your propane cylinder in a hot car.
When reattaching your propane tank to your grill, remember to check for propane leaks between the propane valve and the fitting or regulator. You can do this easily by using a leak detector solution or soapy water. After connecting the propane tank, slowly open the cylinder valve a check for any bubbles that appear. If bubbles appear, close the cylinder valve tighten the connection and retest for leaks again.
When you connect your propane cylinder to the appliance, make sure the appliance is turned off.
When storing your propane tank, make sure to keep it outdoors. Never store it in an enclosed area. Keep the cylinder away from any heat sources. Never store cylinders under or near a drill. And most importantly, when storing your tank, keep it away from any ignition sources.
Click to learn more about propane cylinder safety
From all of us at SMO Energy

,

we hope you have a happy, healthy, and safe Labor Day Weekend!
Last Updated on March 31, 2020 by chelsea