Considering a home renovation? You are in good company. In 2015, homeowners in the U.S. spent around $340 billion on home renovation projects.
There are many reasons why you might renovate your home, among them, are a desire to improve the energy efficiency of your property and save money on heating and cooling. Learn more about the benefits of renovating for energy efficiency and the specific areas of the house to focus on as you go about remodeling.
Table of Contents
Why Should I Renovate My House?
Renovating your home can make it more attractive and comfortable to live in today. An energy-efficient home remodel can also help you save money in the long run, in multiple ways. If you are not sure if renovating your home is the right choice at the moment, the reasons below might convince you to move forward with the project.
1. You Do Not Want to Move
Many homeowners would prefer to update and upgrade their current homes than start the process of buying a new house and moving. Most likely, you and your family feel attached to your current home and have many happy memories from your time there. You are not interested in starting over in a new house. Deciding to renovate rather than relocate lets you continue to enjoy your family's home, and it also saves you the cost of moving.
2. You Want to Update Your Home's Style
Another reason to consider renovating your home is if the style of the interior is a little outdated. While you might not want to chase trends or make your home super modern, there usually comes a time when a house can benefit from a refresh and an update.
If you are considering a renovation because you want to update the style of your house, it can be worth it to focus on changes that are small and easy to adjust later on, such as the lighting, fixtures and knobs, furnishings and paint color. That way, you are not investing a lot of money in a trend that will be passé in just a few years.
3. You Want to Increase the Resale Value of Your Home
Most home renovations can increase a home's value. In the South Atlantic region of the U.S., for instance, renovation projects such as adding insulation and replacing windows tended to have the highest resale value. Homeowners who added insulation to the attic were typically able to recoup more than 123% of the cost of the project.
4. You Want to Reduce Energy Use
While newer homes may be more energy-efficient from the beginning, you can also make an older home more energy-efficient as well. How? Even small changes, such as installing motion sensors for the lights in bedrooms and low-flow faucets in your kitchen and bathroom, can lead to a considerable reduction in energy use and costs. Other energy-saving projects include upgrading your HVAC system, installing energy-efficient appliances, adding insulation or replacing windows.

5. You Want to Make Your Home More Eco-friendly
Reducing your home's energy use is just one way you can make it more environmentally sound. Many of the products used in home renovation projects today are eco-friendlier than products used even a few years ago. For example, if you are painting the walls of your house, you can use paints that are VOC-free, which can improve the indoor air quality of your home.
6. You Want to Make Your Home Safer
Depending on the age of your home, and when it was last updated, there might be some systems or features in it that are no longer up to code or no longer considered safe. Homes in Maryland that were built before 1978 might have lead paint, for example.
Your home might also have an outdated electrical system or have areas that are not properly insulated, which can create unsafe conditions. If areas of your home are not well-sealed, they can be prime spots for mold growth, which can be a health hazard.
Making your home safer through renovations can protect your family's health and lead to lower medical bills.
How Can I Make My Home More Energy Efficient?
If you are primarily interested in renovating for energy efficiency, you are going to want to focus on some areas more than others. A new coat of paint on the walls might freshen up the interior of your home, but it is unlikely to lead to considerable energy savings. The same is true of new cabinets in your kitchen. Instead, focus on projects that involve the use of energy, or that will help to keep the temperature and humidity inside your home even and comfortable.
1. Windows
Windows let in light, heat and fresh air. They can also let out heat and air. Heat gain and loss through windows can account for up to 30% of heating and cooling use in the home. The most common reason why homeowners decide to replace their windows is to improve energy efficiency.
Although replacing your home's windows can save you money on energy bills, the cost of the project can be reasonably steep. Luckily, you do not necessarily have to replace all the windows in your home to improve their energy efficiency. In some cases, making improvements to the windows, such as adding weatherstripping or caulk, can help to create a better seal and minimize heat gain or loss. Adding accessories to your home's existing windows, such as curtains or shades on the interior and awnings on the exterior, can also help make them more energy efficient.

If you do decide to replace your windows, look for models that are Energy Star rated and that are appropriate for the area where you live. You can find your climate zone at the Energy Star website, then look for windows that are rated for your zone. Homes in Southern Maryland are in the North-Central Climate zone.
2. Lighting
When you think of making the lighting in your home more energy-efficient, you might assume that means replacing incandescent light bulbs with compact fluorescent or LED bulbs. While swapping out the light bulbs you use in your home can lead to energy savings, in the form of a lower electric bill, there are additional ways to make the lighting in your home and around your property more energy-efficient.
It is not only how much energy the light bulbs use that affects your home's electric bill. It is also how long the lights in your house are left on. While you can remind members of your family to switch off lights when they leave the room, a more reliable option might be to install light fixtures that have occupancy sensor controls. The sensors can detect when someone has walked into a room and will turn the light on for them. If someone leaves the room without turning off a light, the sensor will detect that no one is there and will switch the light off automatically.
You can also choose to install lighting fixtures that have a timer. You can program the timer to turn the lights on at a certain point, such as in the evening right before you are scheduled to come home from work.
3. Appliances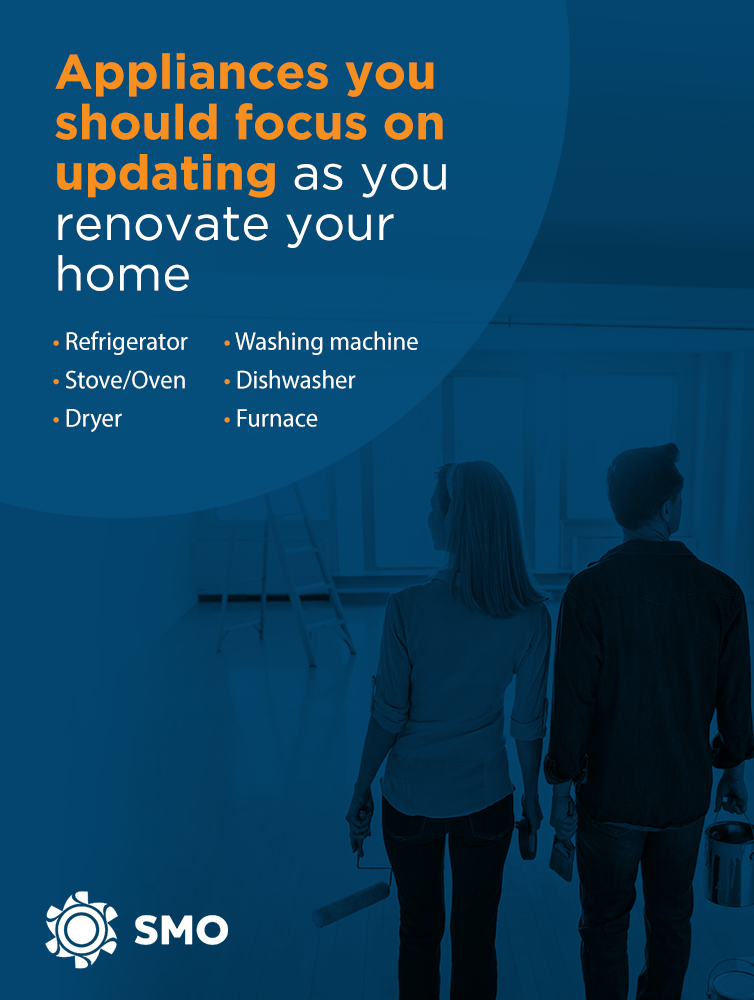 Replacing older, less energy-efficient appliances as part of your home renovation program can also translate into energy savings. All told, the appliances in your home are likely to account for about 13% of your energy costs.
When you are shopping for new, energy-efficient appliances, it is important to look at the cost of ownership as well as the sticker price of the item. Each appliance should tell you how much it will cost to buy it and the energy costs to run the equipment each year. A less energy-efficient refrigerator or washing machine might have a lower price tag, but a higher cost of ownership compared to a pricier, more energy-efficient model.
Which appliances should you focus on updating as you renovate your home? Here are a few:
Refrigerator
Stove/Oven
Dryer
Washing machine
Dishwasher
Furnace
Water Heater
If you consider updating your water heater, consider a tankless option. While you could install an updated storage tank model, tankless water heaters are optimal energy savers because they only heat water as you need it — which makes them super efficient appliances.
4. Insulation
The exterior walls, doors, windows and roof of your home are known as the envelope. When air leaks through the envelope of your home, you can end up paying more to keep your property cool in the summer and warm in the winter. Sealing the envelope will prevent air from getting in or out.
Improving the energy efficiency of your home's windows is one way to seal the envelope better. Another way to improve the envelope around your home is to add insulation to the attic. Insulation minimizes heat flow, which means it can help keep warm air indoors during the winter and hot air out during the summer. An insulated attic can also help prevent the formation of ice dams on your roof in the winter and can help to keep insects and pollen out of the house.
How well insulation controls heat flow is measured by its R-value. The higher the R-value, the stronger the insulation. Usually, homes in colder areas need insulation with a higher R-value. Homes in Southern Maryland typically benefit from an R-Value between R38 and R60.
5. Air Conditioning
If your home is among the 75% of U.S. homes that have air conditioning, switching to a more energy-efficient model when you renovate can lead to considerable savings. An energy-efficient air conditioner can help reduce your energy use by up to 50%.
There are a few factors to consider when choosing an energy-efficient air conditioner. One is the size of your home and your current set up. If you do not already have an HVAC system or ductwork in your home, a mini-split system might be an appropriate option. One way to decide which cooling option is right for you is to schedule a free energy consultation. An energy consultant will evaluate the energy use of your current air conditioning and heating system, and they can recommend an appropriate, energy-efficient cooling system and/or heating system for your home.
How Do I Start the Remodeling Process?
You have decided that remodeling your home is the right option for you, and you are looking forward to making improvements that will lead to long-term savings. The question you have now is, how do you get started? Beginning any major renovation project, whether you are focusing on a single room or the entire house, can seem daunting. The thing to remember is to take things step by step.
Follow these steps to get your home renovation underway:
Get an energy audit. Scheduling an energy audit for your home can give you a good idea of where there is room to improve. It might be that air is leaking out of your home through poorly sealed windows or that the HVAC system you have installed is too large for the house or is outdated and inefficient.
Decide what changes you will make. The first thing to do when planning your energy-efficient home remodel is to decide what you will change. Do you want to improve your home's energy use by sealing the envelope and improving your heating and cooling sources? Or do you want to focus on reducing energy use in the kitchen by overhauling the appliances there and giving everything a facelift?
Set a budget. As you plan your renovation, it is essential that you understand what things will cost and, most importantly, what you can afford to spend. Look at your finances to see how much you can pay for the renovation project. If you are considering using a home equity loan to cover the costs, look at how much you can borrow and what your monthly payments will be like before you make any concrete decisions.
Hire a contractor. While there might be some aspects of your renovation project you can tackle yourself, you are likely to feel more at ease if you have a professional overseeing the process. Look for a contractor who is licensed, insured and who comes highly recommended. How much it will cost to get your home more energy efficient will vary depending on what needs to be done. That is why it is ideal to get quotes from a few different companies before you decide which one to work with. You will have a better understanding of what is out there and what costs you might expect.
Still on the Fence About Renovating for Energy Efficiency?
Although renovating your home is less involved than moving, it still does require a commitment of time, energy and money. If you are still not sure if remodeling is the right move to make, remember that doing so can lead to considerable cost savings in the long run. Plus, when you renovate your home, you are making it a safer and more comfortable place to live. Should you decide to sell your house at some point, you are likely to see more demand for your property than you would before you renovated.
Even small changes to your home, such as upgrading your heating and cooling system, can make a big difference in your energy costs. SMO Energy offers several options for homeowners who are looking to improve their home's energy efficiency. Take a look at our equipment options and feel free to contact us to learn more or to schedule an energy consultation today. We work with clients across Southern Maryland and in Prince George's and Anne Arundel counties.

Sources:
https://www.nar.realtor/sites/default/files/documents/2017-remodeling-impact-09-28-2017.pdf
https://www.homeadvisor.com/r/why-home-improvement-industry-worth-billions/
https://www.housingwire.com/articles/48237-nahb-home-renovation-spending-expected-to-boom-while-homebuilder-pockets-bust
https://www.remodeling.hw.net/cost-vs-value/2017/south-atlantic/
https://mde.maryland.gov/programs/LAND/LeadPoisoningPrevention/Pages/homeowners_identify.aspx
https://www.washingtonpost.com/local/md-politics/thousands-of-homes-in-md-could-be-contaminated-with-lead-but-the-occupants-dont-know-it/2016/07/29/b5f49a36-542a-11e6-b7de-dfe509430c39_story.html?noredirect=on&utm_term=.5d8091799f87
https://realestate.usnews.com/real-estate/articles/the-guide-to-home-renovations
https://www.energy.gov/energysaver/design/windows-doors-and-skylights/update-or-replace-windows
https://www.energystar.gov/index.cfm?fuseaction=windows_doors.search_climate
https://www.houselogic.com/remodel/windows-doors-and-floors/replace-old-windows-with-energy-efficient-models/
https://www.energy.gov/energysaver/design/windows-doors-and-skylights/update-or-replace-windows
https://www.energystar.gov/index.cfm?c=windows_doors.pr_savemoney
https://www.energy.gov/energysaver/save-electricity-and-fuel/lighting-choices-save-you-money/lighting-controls
https://www.energy.gov/energysaver/articles/energy-efficient-home-appliances-can-save-you-money
https://www.energy.gov/energysaver/appliances-and-electronics/shopping-appliances
https://www.energy.gov/energysaver/appliances-and-electronics/kitchen-appliances
https://www.energystar.gov/index.cfm?c=home_sealing.hm_improvement_insulation_table
https://energy.maryland.gov/Documents/YourHomeandtheEnergyCode.pdf
https://www.energystar.gov/campaign/seal_insulate/why_seal_and_insulate
https://www.energy.gov/energysaver/weatherize/insulation
https://www.energy.gov/energysaver/home-cooling-systems/air-conditioning
https://www.energy.gov/articles/energy-saver-101-infographic-home-cooling
https://www.houzz.com/magazine/where-do-i-start-when-renovating-my-house-stsetivw-vs~80418984
https://www.motherearthnews.com/green-homes/home-design/green-remodeling-zm0z13jjzsor
https://www.nahb.org/consumers/homeownership/remodeling-your-home/thinking-about-home-remodeling-start-here.aspx
https://realestate.usnews.com/real-estate/articles/why-renovating-is-better-than-buying-a-new-home
Last Updated on December 24, 2019 by Webpage