Furnace Installation, Maintenance & Repair
A Functioning Furnace Is Crucial to Your Home's Comfort.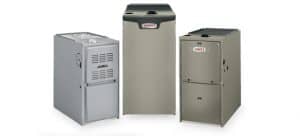 An efficient and high-quality furnace is one of the best ways to ensure your home stays warm and cozy during the coldest months of the year. Making sure the system is properly maintained and functioning as efficiently as possible can help maximize its lifespan, reduce energy costs, and achieve total home comfort. Furnaces are similar to boilers. They both help achieve a warm, comfortable home. However, while boilers heat water and distribute it through pipes, baseboards, and radiators, furnaces heat air and send it through the home's duct system. Furnace filters should be changed at least once every couple of months. Most furnaces are powered by either natural gas, propane or fuel oil. If you have an older furnace, regular maintenance and servicing become especially critical. Without proper upkeep, the chances of the furnace burning more fuel than necessary increases – meaning you are paying more on utility bills than you would otherwise have to.
What Furnace Services Do We Offer for Southern Maryland?
With more than 90 years of experience serving our local community, our family-owned business can provide a series of furnace services to take the stress and hassle out of finding a furnace installation company and then a furnace repair company later. Instead, you have one trusted provider for everything your furnace needs.
Our services include:
Furnace Repair
With our emergency 24/7 service, you can always count on SMO Energy as your furnace repair company. It's important to us that your family is comfortable year-round in your home, which is why we're more than ready to come out and inspect your furnace as well as any other equipment in your home, like a water heater or fireplace.
All our technicians are a part of the North American Technician Excellence (NATE) certification program, meaning they've undergone extensive exams and testing by a third party who checks their real-world knowledge of HVAC systems. Our technicians also do more than 2,700 hours of training each year, so when they arrive at your home, you know they'll troubleshoot your gas furnace and fix it the first time.
Furnace Maintenance
We're committed to keeping your furnace in the best condition possible. Throughout the year, you're welcomed to call on our technicians to change your furnace's filters, inspect it or provide it with a complete tune-up. No matter what you need, when it comes to furnace maintenance, we have you covered.
You and your family can also take advantage of our Service Agreement for oil and gas furnaces, which make it easier to not only care for your furnace but also handle any necessary repairs. With our Service Agreement, we provide more than 40 different furnace replacement parts at no additional charge as well as repairs and a free tune-up and inspection.
Furnace Replacement & Installation
Whether you're installing a new furnace or replacing your existing one, you can count on the experienced energy consultants at SMO Energy to provide the advice you need and answer your biggest questions. We'll meet with you to discuss every detail of hooking up a new furnace, plus handle any permits or necessary paperwork.
We'll also recommend the best furnace for your home — new furnaces can take advantage of our 0% financing. And when you're ready, we'll schedule an install date that works for you and send one of our experienced and certified technicians to your home. They'll explain everything about your furnace and answer your questions before completing what we like to call a high-efficiency furnace installation.
Get a Furnace Maintenance Quote or Call Us Today.
Is It Time To Upgrade?
There are several warning signs that could indicate your furnace is not working properly and that it may be time for a repair or replacement. The first is if the furnace is more than 10 years old. Once the unit hits the 10-15 year mark, it is at a higher risk of failure. Plus, there are much more energy-efficient options available now than a decade ago. Today, the efficiency of furnaces is measured by the annual fuel utilization efficiency (AFUE). New furnaces are up to 98% AFUE, unlike older furnaces which are only about 65% AFUE. This can save your household up to 35 cents for every dollar spent.
By replacing your furnace with a more efficient model, you can enhance the heating quality of your home and reduce heating fuel costs. To further increase the efficiency of your furnace, regularly inspecting your home's duct and ventilation systems is also recommended. Additional signs of furnace malfunction include unusual noises, infrequent cycling, and inconsistent temperatures. When investing in a new furnace, ensuring you work with a licensed and experienced company is crucial, since the performance of the unit hinges on proper installation and maintenance.
What's the Risk of Delaying Furnace Services?
For many families, delaying their furnace's replacement, repairs or maintenance is often accidental. Time flies, and forgetting to schedule an inspection is easy when you haven't noticed any change in your furnace's performance. Skipping an annual appointment, however, poses several risks, including:
Higher repair costs due to undiagnosed issues
Shorter furnace lifespans due to limited airflow and other problems
Greater energy costs due to decreased performance
Protect your family's investment by taking care of your furnace year-round with the help of SMO Energy.
Why Choose SMO For Your Furnace Installation?
At SMO, we are a family owned and locally operated business providing total home comfort solutions for over 90 years. We offer many services for gas or oil furnaces and boilers across the Southern Maryland region, Anne Arundel County, and Prince George's County. Our offerings include:
Furnace Installation and Replacement
Furnace Repair
Furnace Maintenance and Cleaning
Start Your Furnace Maintenance & Repairs Today
All of our technicians are highly trained, licensed and NATE-certified. Whether you need a repair, regular maintenance, or a new furnace installation, SMO has you covered. We offer FREE in-home energy consultations to give you an accurate estimate for your new equipment, 0% financing, and automatic fuel delivery services. Contact us today for your free estimate!