Heat Pumps
Heat pumps help achieve total home climate control and comfort. They look and perform like air conditioners, only they can also heat your home. Using electricity as an energy source rather than heating fuels, heat pumps extract heat from the air to keep you cool during the summer, warm in the wi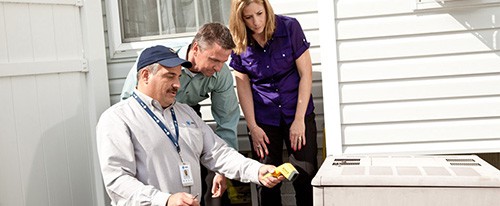 nter and comfortable all year long.
The biggest difference between heat pumps and other heating systems is that they move heat rather than create it. There are different types of heat pumps, such as geothermal and water, but the most common are air-sourced. Air heat pumps can come as split systems, package units or mini-split ductless systems.
What Are The Benefits of Heat Pumps?
Used as a standalone system or in combination with another heating source - such as a furnace or boiler - heat pumps offer an array of benefits:
 Help reduce heating costs by as much as 40%
Quiet operation
Longer equipment lifespan
Less use of fossil and alternative fuels
Dehumidify, resulting in better air quality
Lower the need for fuel during winter in homes that use furnaces as backup systems
Work efficiently with other home heating systems
Proper maintenance of heat pumps ensures maximum efficiency and performance. This includes cleaning and annual tune ups to ensure all parts are functioning properly, as well as changing the filters monthly. When components go too long without cleaning or maintenance, it can lead to the following:
Restricted air flow
Increased safety hazards
Raised energy costs
Decreased performance
Shortened unit lifespan
Compressor damage
Costly repairs
At SMO Energy, our goal is to ensure that your family doesn't experience those increased costs or long-term damage to your heating and cooling system. That's why we're the company you can trust for not only heat pump replacements and installations, but also heat pump repairs and maintenance. And for many families, having a single provider that's local and trusted is a benefit all its own.
Fill Out This Web Form To Get Started
Repair or Replace?
There are several signs that can indicate your heat pump is not working as it should:
Noisy systems
Units icing up
Irregular temperature
Frequent repairs
Unusually high utility bills
Leaky ducts
Improper refrigerant charge, and annual need for Freon
In some cases, it makes more sense to replace a heat pump rather than repair it. For example, if a major part is damaged, such as the reversing valve or compressor, or if the need for repairs is becoming more frequent. The average life span of a heat pump is between 10 and 15 years. If you're near that mark, it's probably time for an upgrade. Heat pumps with ENERGY STAR labels can lead to as much as 20 percent savings on utility bills when replacing a unit that is 10 years or older. If you're looking for a heat pump replacement, our experienced energy consultants can help.
Our Heat Pump Services
At SMO Energy, we're your complete heat pump provider. We offer installations as well as heat pump repairs and tune-ups to ensure your family's cooling and heating system is running at its best year-round. Plus, every service includes our transparent prices, zero hidden fees and professional technicians. Our heat pump services for the Southern Maryland community include:
Heat Pump Installation
We collaborate with you from beginning to end when it comes to our heat pump installation services. Our energy consultants meet with you at your home to discuss your energy needs and preferences and measure your home to find the best heat pump for your location and energy demands. After we've recommended the best new pump — which includes 0% financing for qualified applicants — we review what we've discussed with you and talk about the installation process before scheduling a date and time for the install. When our certified technicians arrive, they answer any additional questions you have and give you a walkthrough on how your heat pump works. And when they leave, it's as if they were never there.
Heat Pump Repair
Our family business understands how essential your heat pump is during the winter and summer, which is why we provide emergency 24/7 service. Whether your heat pump is acting odd or not acting at all, our team is ready to help restore it to optimal performance so you and your family can enjoy the complete comfort of your home. With their extensive experience and training — our technicians do more than 2,700 hours of training each year — you can trust that our team will not only fix your heat pump the first time but also leave your home as clean as when they arrived. If you have any questions about your heat pump's repairs, you can always ask our helpful team.
Heat Pump Maintenance
Just like you maintain your car throughout the year, from its oil to its tires, you also need to service your heat pump. Heat pump tune-ups from our knowledgeable, certified technicians include inspecting your heat pump from top to bottom as well as any heating sources that work in coordination with your heat pump, like a furnace. To make it easy to remember your heat pump's maintenance, we offer a Service Agreement. For heat pumps, this agreement provides your family coverage for heat pump repairs and replacements for more than 25 different parts — plus a free annual heat pump inspection.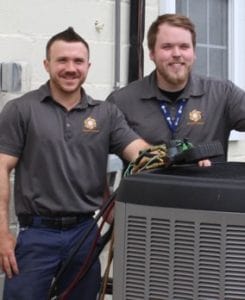 Why Should You Choose SMO?
Whether you are looking to have a new heat pump installed or an existing unit repaired or serviced, SMO has you covered. Our licensed and NATE-certified technicians are committed to your home comfort needs and offer a full range of heat pump services, including:
 Heat pump installation/replacement
 Heat pump repair
 Heat pump maintenance, tune-ups, and cleaning
We offer FREE in-home estimates for our heat pump installations and consultations and always provide quality service at the best possible value, with no hidden charges and 0% financing on new equipment. Servicing the Southern Maryland region, Anne Arundel County, and Prince George's County for over 90 years, SMO Energy can help with all your home's heating and cooling needs. Give us a call today to schedule your FREE consultation!