Winter weather can be unpredictable at times. A snowstorm can ramp up in speed and intensity very quickly, and soon a flurry can turn to a blizzard.
Maryland homeowners are no strangers to the meaner side of winter storms. According to Maryland Manual On-Line, the average annual snowfall in the state is 20.6 inches, though some parts of the state can see as much as 100 or more inches.
All that snow can be inconvenient, but it can become dangerous, too. Too much snow, ice or wind can cause power outages, and there's little anyone can do to prevent them. However, there are some actions homeowners can take now to reduce the impact power outages have on their lives in the future.
Invest in a Home Standby Generator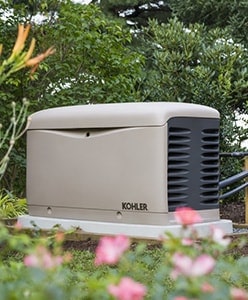 For some people, a power outage is an inconvenience but not a big deal. However, for others, a blackout is a serious concern. If you rely on medical devices powered by electricity, a power outage can become dangerous, quickly. Additionally, entrepreneurs with a home business likely will be antsy to get back online to stay on top of business tasks.
Whatever the reason for needing to get power back up promptly, there's one solution that can keep your home electricity running for days: A standby generator powered by natural gas or propane. It disconnects the home from the electrical grid and transfers its power to the home's electrical panel.
Depending on the capacity, the generator can power a home for several days. It's important to note that part of this depends on how much fuel is available; a propane gas delivery during the storm or outage may be a challenge. As such, it's wise to limit usage to necessary electronics only.
Make a Preparedness Kit
Beyond investing in a propane or a natural gas standby generator, homeowners can get ready for a power outage with a preparedness kit. Ready.gov suggests including a flashlight, batteries, cash and a first aid kit. Blankets and sweaters can help keep you warm.
You may also include pre-charged portable cell phone chargers so you can keep in touch with family and friends to let them know you're safe and ask how they're doing. Bottled water and nonperishable foods are also a good idea – you may not be able to access the fridge or use your range or oven during this time.
Make sure everyone in your household knows what to do during a power outage. Don't open the refrigerator or freezer, as these need to stay close to hold onto the cold as long as possible. Introducing warm air to your temperature-sensitive foods isn't a good idea. Also, when you need extra light to see, reach for flashlights before candles. An open flame is a fire hazard; it's always a good idea to reduce your risk of a house fire when you can, but it's especially important when road conditions are dangerous and emergency crews are needed elsewhere in the city.
When winter storms strike, Maryland homeowners need to be ready for the worst. Having a home standby generator can make dealing with a power outage easier and safer. To learn about how to get the right generator for your home installed, reach out to SMO Energy.