The Choice for Propane & Heating Oil Delivery in Annapolis, MD
As an industry leader among propane companies in Annapolis, MD, we've set ourselves apart from other providers of propane delivery in the Annapolis, MD, area by building our services around you. That's why our family-owned company provides superior propane, service, and staff to you and your family.
Our Competitive Edge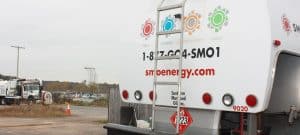 We deliver an unmatched customer experience by including several benefits:
Premium-quality heating fuel for higher efficiency
Zero hidden fees or charges
Transparent and competitive prices
Our delivery team also services tanks of multiple sizes, including those up to 1,000 gallons. Other factors that make us a favorite choice for propane delivery in Annapolis, MD, include:
Fast and simple scheduling: Take out the hassle of checking your propane levels with our automatic delivery schedule. We make accurate estimates of your fuel usage and then top-off your tank so it's always ready to go. You can also create a set schedule or set up a delivery when you need it.
Secure and easy-to-use online account: Our online services make it easy to manage your account, from bills and past invoices to service requests and scheduled deliveries. Our Client Care Representatives are also available if you need their help.
Dependable and year-round emergency service: With our 24/7/365 emergency service, you always have access to your Annapolis, MD, heating oil or propane provider. If your heating system breaks, we're only a call away.
Custom and convenient payment plans: We take our transparent propane heating prices for Annapolis, MD, and make them more competitive with our SmartPay Budget Plan. This free service estimates how much fuel you use each year and then divides it into 12 low payments.
Contact us today to request a free propane quote or schedule a delivery!
We provide propane and heating oil delivery services to Anne Arundel, Prince George's, Charles, Calvert, and St. Mary's Counties! Call us today and ask about our new client discount.
Request a Propane Quote Schedule Heating Oil Delivery
Services We Offer for Propane and Heating Oil in Annapolis, MD
One of the reasons we're an industry leader among propane and heating oil companies in Annapolis, MD, is because we are a total home comfort provider. As a part of our commitment to providing high-quality services to improve your home's comfort, we offer:
Propane consultations: Choosing a new propane tank for your heating system can be daunting. Our team is here to provide assistance through one-on-one meetings. We'll work with you to find the best heating equipment for your home and then connect it to all your existing appliances.
Propane conversions: Moving from heating oil to propane includes several benefits. Propane is greener and more efficient than heating oil. And when you compare heating oil prices, propane tends to have a lower cost per gallon. If you opt to switch to propane, you can also receive a credit of up to $1,000.
Propane installations: We offer new and leasable tanks and our team will install either one for you. We follow the strict guidelines and regulations set by the local government and leading organizations like the American Society of Mechanical Engineers (ASME) to ensure your tank is installed right.
To keep your tank in peak condition year-round, we also provide preventative maintenance services.
Request a Propane Quote Schedule Heating Oil Delivery
Make the Move With a Free Quote for Propane Heating Prices in Annapolis, MD
With more than nine decades of experience, our family-owned business has been an energy provider for multiple generations of families across Southern Maryland. Our full range of services, as well as commitment to your home comfort, have made us the choice for homeowners looking for a provider who cares about them.
Join the SMO Energy family today by receiving a free quote for our propane heating prices in Annapolis, MD.